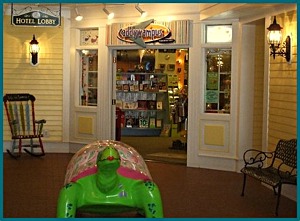 Caddywampus. A good kind of crazy.
Our goal is to have a little something for everyone and most importantly things that will make you and others smile. Our store is full of wonderfully quirky items for you to give, and fun stuff for you to keep. Judging from the chuckles we hear around the store we have achieved our aim!
It's the place to shop for eco-friendly gifts, hip home décor, paper goods, cool baby shower gifts and very funny books. Stretch those brain cells with our puzzles and games; re live your childhoods with our retro toys and enjoy all the products for fun in the kitchen and at the office. Don't forget your four legged friends; we've got them covered too.
We have assembled an amazing array of products to bring a little something special to your day and hope that you can stop by and hang out for a while.
Happy shopping!
Located on Main Street underneath the Main Street Inn and Suites Hotel.
Open May through October.
Caddywampus
498 Main Street
Mackinac Island, MI 49757
231-881-3972
<>
Visit Caddywampus On Facebook >>>>
<>
Caddywampus On Facebook
Below are the latest postings from the Caddywampus Page On Facebook.
<>
<>
Visit Caddywampus On Facebook >>>
<>